by sunrise
Westminster, Calif.—Bob Burdick opened Sunrise Automotive with four bays in 1980 to service primarily domestic vehicles, including extended warranty work, current Co-Owner Robert Anderson said.
"I started working for Burdick in 1983 when I was only 16 years of age," Anderson said. "Then in 1985, when I was only 18, Bur

dick decided to sell the shop, so I bought it."
In 1980, ASE Certified Master Technician Bill Kajita also opened Horizon Automotive right next to Sunrise, Anderson said. "We're in the same strip facility, but Horizon was a little larger with six bays, and there was no conflict because Horizon only serviced Japanese import vehicles."
Anderson said as Sunrise grew, he hired current Co-Owner Trevor Morris in 1997 to do oil changes at minimum wage. "I taught Trevor everything I could, and after the first year, I reevaluated him; he was considered an R&R technician."
After that, Morris said, he also started doing the office work, which nobody wanted to do. "I was happy to take on more responsibility, I just wanted more money, and I told Robert I'd do anything he needed me to do–clean toilets, whatever; just give me more money and I'll do that."
Then, in 1999, with Horizon Automotive thriving, Kajita took sick and ultimately had to have a hear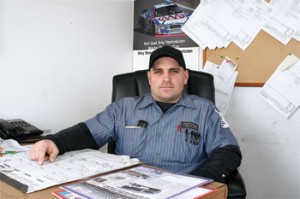 t transplant operation, Morris said. "Bill actually died on the operating table and they brought him back to life."
So Anderson said he and Morris took care of Horizon while Kajita was recuperating. "We handled Bill's customers as well as ours, but he knew he wouldn't be able to work like before and could never repay us for all we did while he was sick," Anderson said. "We struck a deal, and in 2000, Bill sold Horizon to me, so the shop never closed."
Anderson said Morris continued working for him for several years, eventually becoming manager over both Sunrise and Horizon. "Then, in 2004 I decided to go into automotive teaching, so I sold the whole operation to Morris."
Anderson said he taught for one year at Rio Hondo College in Whittier and two years at Cypress College in Cypress. "But I got tired of teaching, and in 2007 I came to Trevor looking for a job."
Anderson's timing was perfect. The shop was making plenty of money, Morris said, but he was doing nothing but working, and he needed help. "I realized that the things that I needed were kind of specialized, and I wondered how I was going to train someone to fill the hole that Robert left," he said. "So I told him 'I'm so glad you're here; you would be the perfect candidate,' and he laughed."  
Morris said he struck a deal with Anderson to come in as a partner, which was an ideal situation. "When I came into the industry, I didn't know anything, and Robert taught me everything his way, so we work very well together; my way of doing things is his way, and visa versa."
To make things run even better, Morris said Kajita also came back to work for the shop three days a week. "Bill's knowledge is way beyond anything I know, so for me I'm constantly reaching for his knowledge, and he helps our younger technicians a lot."
 
In recent years, the shop has broadened its services from general repair and diagnostics to include tires, wheels, alignments, transmission work, and complete air-conditioning service and repair, Morris said. "We are doing a lot more condensers, compressors, even lines and fill valves, and on most jobs we like to do dryers and accumulators."
Recharging R-12 and R-134a A/C systems, fan-speed control modules, and fan-speed solid state transistors are also among the late-model A/C work that Morris said was picking up.
 
"Just last week I did a vent blend motor on a 2005 Accord," he said. "I also had to have our R-134a machine serviced, and I have been using a seal additive experimentally."
 
The shop provides all of the tools needed, Morris said, including Robinair and OTC A/C evacuators and equipment. "Most of our guys also test and update their ASE certification, and Robert is always teaching; he can't help it."
While Morris said most of the shop's business comes from repeat customers and word of mouth, he does participate in the AAA multipoint inspection programs.
"We also send out '$10 off' post cards to specific targeted ZIP codes such as retirement communities, which has paid off pretty well in getting new customers, which we log into our Mitchell 1 invoice program," he said.
As proof of Sunrise's commitment to customer satisfaction, the shop won the AAA Quality Service Award for 2010. "I don't want to diminish the award, but to me, we got it for just doing what we're supposed to do," Morris said.
"We don't serve coffee, wash your car, or have a plush waiting room, but we don't charge for it either," he said. "But I answer the phone all day when I'm here, which is most of the day."
"I think there is profit in all service-oriented industries, but if you don't keep up, you can't compete," Anderson said. "I believe if I solve enough people's problems, I can always make money."
Article Link:
http://www.partsandpeople.com/SouthernCalifornia/articles/view/5366