Robert Anderson
Robert Anderson began working at Sunrise Automotive in 1983. Robert grew up fixing cars so automotive repair and technology is "in my blood" -Robert. Robert purchased the company two years later, just 8 months after his 18th birthday. Sunrise ran as a 4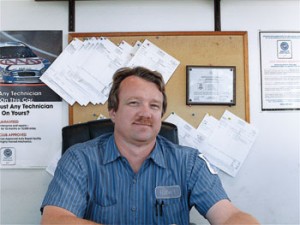 bay shop under Robert's leadership and in 2000 Robert purchased Horizon Automotive, the adjacent foreign automotive repair shop, adding 6 more bays and expanding into foreign vehicle repair. Robert began teaching part-time evenging college courses covering engine smog programs and transmission repair at GoldenWest College from 1999-2004. Later in 2004 Robert began teaching automotive technology full-time at Rio Hondo College and sold Sunrise to associate Trevor Morris. A year later Robert moved to Cypress College  to teach specialized engine performance courses, including the Toyota Engine Performance and Electrical Repair course. Robert returned to Sunrise Automotive in 2007 as a partner with owner Trevor Morris. Anderson's timing was perfect. "The shop was doing well," Trever Morris said, "but I was doing nothing but working, and I needed help." Robert is an ASE Certified Master Mechanic  and spends most of his time diagnosing and repairing vehicles. Since Robert's return, Sunrise Automotive won the AAA Quality Service Award for the 2007-2009 period.
Trevor Morris
Trevor Morris began working at Sunrise Automotive in 1997. Trevor was hired on as a basic technician, doing oil changes and brake jobs. Trevor was a fast learner and strived to learn as much as he could. "After a year, I reevaluated Trevor, he was considered an R&R technician."-Robert Anderson After that Trevor started doing office work which included: com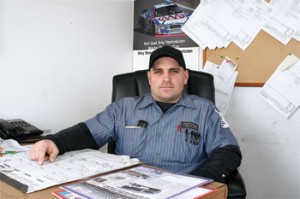 piling invoices, ordering parts, making estimates, and talking to customers; which was Trevor's true gift. Once that was discovered Trevor is now the primary customer service representative and co-owner of Sunrise Automotive. Trevor also handles customer mailings and discount programs on top of automotive repair and makes estimates.
Sunrise Automotive
Sunrise Automotive, one of the most trusted names in the automotive industry, has made a point to serve its community with not only quality automotive service, but with honesty and integrity that keeps their customers satisfied, confident, and assured that their car was in the best hands possible. Sunrise Automotive has 100 years of combined experience with master technicians, ASE certified associates, and is AAA approved. Sunrise Automotive takes pride in their work and in seeing smiles on their customer's faces. Sunrise Automotive has recently received the AAA Quality Service Award for the 2007-2009 period. A further testament to their commitment to quality and customer satisfaction. Have any questions, engine or transmission problems? Then call or take your vehicle in today!